Effer-ves Cleaning Tablets
Call or email us to get greak bulk deal prices!

In stock
Product Description
For all your patients who wear retainers, aligners and mouthguards. effer-ves® is a new effective, effervescing tablet for cleaning all removable dental appliances. 32 tablets packaged in a bright, modern box that will look great in your practice and suit the pocket of your patient.
Dental appliances have a slightly grainy surface that can, if not cleaned effectively, harbour micro-organisms that can cause infections leading to serious health complications. Encourage your patients to use effer-ves®.
Used on a regular basis, effer-ves® is an effervescing tablet particularly formulated to kill bacteria that can build up on dental appliances, ensuring optimal oral health as well as removing stains caused by tea, coffee and tobacco, leaving the appliance and mouth feeling fresh and clean.
Delivery & Returns
We aim to despatch all orders within 3 days of receipt. If you have an urgent order please call Customer Services on 0117 975 5533. On receipt of goods customers are requested to ensure the products are as required before breaking any packaging or seal. If there is an error with your order or goods are faulty or damaged please notify TOC within 3 days of receipt. Unfortunately we are currently unable to accept online orders from the Republic of Ireland. Please call Customer Services on the number above to place your order. All product returns must be authorised in advance by calling TOC on 0117 975 5533 and goods are to be returned within 30 days of purchase. For more info see our Terms & Conditions.
You may also like...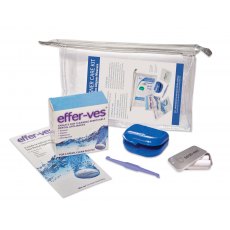 People who bought this also bought...
---
---
---
---
---