Dewimed
TOC are exclusive distributors of Dewimed.
High precision engineered medical products company.
---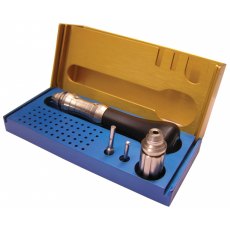 O.S.A.S. Sterilisation Box, Midi
Standard for the most common applications The Orthodontic Skeletal Anchorage System (OSAS) is an easy and uncomplicated system that you can use with confidence. OSAS Screws are extremely stable and highly elastic. Their diameter of 1.6mm with a core of 1.2mm have been proved to be the ideal size for an orthodontic implant and there is a choice of screw lengths between 5mm and 9mm. Larger implants...