Outie Tool - Retainer & Aligner Remover
Product Description
In order for an aligner or retainer to work they need to have a tight fit, this can sometimes present a problem for the patient when they need to be removed for eating, flossing and cleaning.
Patients complain about the struggle they have trying to remove the appliance ending up with sore and broken finger nails or they are frustrated with existing tools that don't give sufficient grip.
The Outie Tool makes it easy for patients to position and remove their retainers and aligners safely and hygienically. With a lever design on the bottom end for fully engaging and removing the lower appliance and a hook design on the upper end for the upper appliance.
The Outie Tool is longer in length than other tools available, allowing the patient to maintain a good hold and leverage
They go easily in to a pocket or purse
There is no danger to the teeth, gums or appliances when using the Outie
How do Outie Tools work? EASY!
Use the lever end to push your lower aligner up and off.
Use the hook end to pull the top aligner down and off. The hook may be inserted on the lingual or labial sides.
Recommendations
Recommended by the patient:
"I love this thing! I received my first set of Invisalign® trays three weeks ago, and had a great deal of difficulty removing them. This great little tool pops them right out."
Recommended by the Dentist:
"I have been treating patients with Invisalign for several years and until now did not have an adequate instrument to assist the patient with the removal of the aligners. The Outie Tool is outstanding. It is far superior to anything else out there."
Gregg K. Johnson, DDS
Delivery & Returns
We aim to despatch all orders within 3 days of receipt. If you have an urgent order please call Customer Services on 0117 975 5533. On receipt of goods customers are requested to ensure the products are as required before breaking any packaging or seal. If there is an error with your order or goods are faulty or damaged please notify TOC within 3 days of receipt. Unfortunately we are currently unable to accept online orders from the Republic of Ireland. Please call Customer Services on the number above to place your order. All product returns must be authorised in advance by calling TOC on 0117 975 5533 and goods are to be returned within 30 days of purchase. For more info see our Terms & Conditions.
You may also like...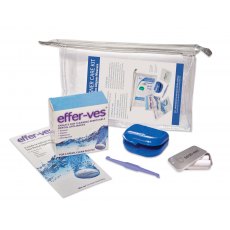 People who bought this also bought...
---
---
---
---
---