High Aesthetic Archwire
Product Description
Reduced visibility and outstanding performance
Featuring similar, low-visibiliy properties, GAC's new Sentalloy and BioForce High Aesthetic Archwires are the perfect complement to any ceramic bracket. A unique, rhodium process provides a low-reflectivity surface, giving each wire a soft, frosted appearance. Both Sentalloy High Aesthetic and BioForce High Aesthetic have the original properties and provide the same excellent performance as our original Sentalloy and BioForce wires.
Sentalloy High Aesthetic
An excellent, low-friction, superelastic, NiTi archwire for straightening and alignment. Sentalloy wires feature thermally activated shape memory and provide near constant forces.
BioForce High Aesthetic
BioForce High Aesthetic archwire is part of the first and only family of biologically correct archwires. The NiTi BioForce wires apply low, gentle forces to the anteriors and increasingly stronger forces across the posteriors until plateauing at the molars. Beginning at approximately 100 grams and increasing to approximately 300 grams, BioForce provides the right force to each tooth, reducing the number of wire changes and providing greater patient comfort.
Aesthetic Advantages
Aesthetic Advantages
Rhodium process provides low reflectivity for reduced visibility
Matches the appearance of the In-Ovation C clip
Complements any ceramic bracket
Provides the same outstanding performance as standard Sentalloy and BioForce wires
Delivery & Returns
We aim to despatch all orders within 3 days of receipt. If you have an urgent order please call Customer Services on 0117 975 5533. On receipt of goods customers are requested to ensure the products are as required before breaking any packaging or seal. If there is an error with your order or goods are faulty or damaged please notify TOC within 3 days of receipt. Unfortunately we are currently unable to accept online orders from the Republic of Ireland. Please call Customer Services on the number above to place your order. All product returns must be authorised in advance by calling TOC on 0117 975 5533 and goods are to be returned within 30 days of purchase. For more info see our Terms & Conditions.
People who bought this also bought...
---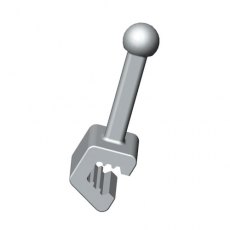 ---