---
Beaver Tail
The Beaver Tail has a flat end for opening the In-Ovation R clip and a forked end for seating the wire before closing the clip.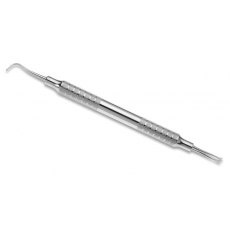 Engage-C Tool
The dual tips on one end span the In-Ovation C bracket to grab the arch wire, allowing you to easily snap the clip closed. The other end has a small "cup" that fits perfectly over the ball of the sliding clip for easy opening.
---
In-Ovation Mini Clip Opener
Round metal blade in a plastic handle used for opening the In-Ovation Mini bracket. Available singly or in packs of five.