---
Ultrabright Glass Mirrors
These new generation dental mirrors feature a ground breaking ultrabright coating which for the first time achieves close to 100% reflectivity. Even high-grade rhodium and titanium dental mirrors have only reached on average 75% reflectivity until now. The Ultrabright dental mirror comes with a removable silicone handle for comfortable handling which can be autoclaved together with the dental mirror....
---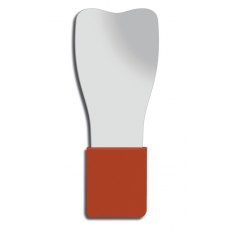 Double Sided Chrome + Titanium Mirrors
These excellent mirrors are now available in both chrome and titanium plating offering more economical choices to the Ultrabright. The titanium surface is slightly more scratch resistant than the chrome version.