Slot Screw
All screws are supplied in packs of 5

Low stock
Product Description
The Orthodontic Skeletal Anchorage System (OSAS) is an easy and uncomplicated system that you can use with confidence.
OSAS Screws are extremely stable and highly elastic. Their diameter of 1.6mm with a core of 1.2mm have been proved to be the ideal size for an orthodontic implant and there is a choice of screw lengths between 5mm and 9mm. Larger implants that are available require a greater amount of bone which limits their extensive use.
OSAS screws have the benefit of immediate load bearing. They are self-drilling and self-tapping which facilitates placement and the OSAS offset screw head offers ideal and healthy conditions for the gingiva. All OSAS screws are made of titanium (TiAI6V4), the globally sucessful, safe and proven material of choice for orthodontic implants.
The OSAS system is manufactured in Germany by Dewimed, a company whose products are sold in nearly 40 countries. As well as orthodontic implants, Dewimed also make General Surgery and Neurosurgery products
There is no need for complicated strategies. In contrast to conventional implants, OSAS screws are not completely osseointegrated. With the limited duration of orthodontic treatment, osseointegration is unnecessary and unwanted. In fact, the non- integration of the implant makes removal very easy.
Delivery & Returns
We aim to despatch all orders within 3 days of receipt. If you have an urgent order please call Customer Services on 0117 975 5533. On receipt of goods customers are requested to ensure the products are as required before breaking any packaging or seal. If there is an error with your order or goods are faulty or damaged please notify TOC within 3 days of receipt. Unfortunately we are currently unable to accept online orders from the Republic of Ireland. Please call Customer Services on the number above to place your order. All product returns must be authorised in advance by calling TOC on 0117 975 5533 and goods are to be returned within 30 days of purchase. For more info see our Terms & Conditions.
People who bought this also bought...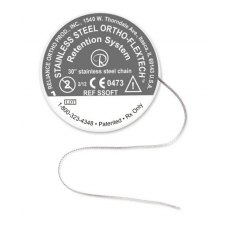 ---